Instant Lock®
"Instant Lock" is a registered trademark of Advanex inc.
Features
Recommended by the Japan Aseismic Ceiling Constructors Association. Simple to install by hand without need of tools, Instant Lock also passed testing using an impact-type vibrating tester that conforms to NAS3350 standards.
With Advanex
You get outstanding reliability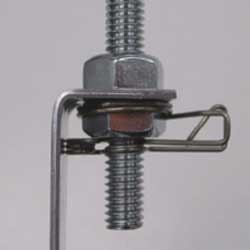 After insertion under the hanger bolt, it is maintenance-free.
It can be installed or removed quickly with just one hand.
No force, tech, tools or torque management required.
* Applicable to locations in which the excess bolt length
is a single nut (8mm) or more.
Loosening prevention dependability performance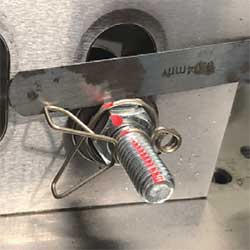 Demonstrated stability due to the restoration of force particular to the spring, with the results confirmed with a loosening angle of 0°in NAS3550 tests.
Technology introduction
Testing machine jig
Results confirmed by the U.S. National Aerospace Standard test NA3350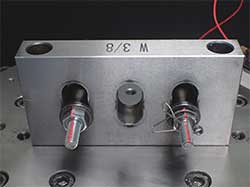 Before testing
Left: Without countermeasure (single nut)
Right: Instant Lock
NAS3350 Impact-type vibrating test conditions
| Item | Condition/ NAS3350 standard |
| --- | --- |
| Assembly torque | Value calculated at 50% of the minimum tensile strength*1 |
| Bolt/Nut | Class1*1 |
| Direction of vibration | Right angle against the bolt axis |
| Frequency | 1775cpm (29.SSHz) |
| Vibration acceleration | 20.15G |
| Vibration stroke | 11.43mm |
| Impact stroke | 19.00m |
| Vibration cycles | 30,000 Cycle |
*1 Conditions apply if specified by customer
Test cleared
Mounting method and impact-type vibrating test
Mounting image
① Pinch the Instant Lock to bend it

② Pass the center ring through the hanging bolt
and engage it so that the entire metal fitting covers the nut

③ Installation complete
* Install so that the hexagonal portion
of the Instant Lock rests on the nut.
Standard dimensions
W 3/8" (millimeter size is under development)
Case studies
IT Home appliances , Mobile phones
/ Automobiles , Aircraft
/ Precision equipment , Housing equipment
/ Other industrial equipment