TANGLESS® INSERTS
Optimal for repairing internal threads, eliminates the need for folding tang, and considerably shortens work time.

* "Tangless Inserts" and "Tangless" are registered trademark of Advanex inc.
Features
Tangless inserts are made by processing diamond-shaped materials into coils. When inserted for reinforcement of female threads, it is fixed to the base metal by spring-back action. By inserting and using soft metals, cast iron, resin, and other materials with weak internal threads, a reliable and strong screw fastening force can be obtained.
With Advanex
The use of dedicated tools enables insertion and extraction without tang insertion. There is no damage to female screws or inserts when pulling out. Insertions can be from either front or back without directionality. The insertion tang is not required to be folded, folded, and gauge checked after insertion. This greatly reduces the work time.
Technology introduction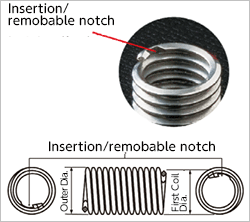 The process of inserting and sampling is simple
■
The use of special tools enables insertion and extraction without the tang.
■
When removing, neither the female thread nor product are damaged.
■
There is no need to fold the tang, look for a folded tang, or check the gauge.
■
If you use ACI-030/ACI-100 power tools, you can insert and remove it by pressing a single button.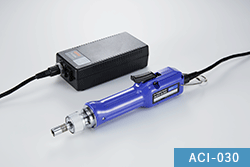 Power tool ACI-030/ACI-100
■
A power tool suitable for the insertion of tangless inserts and coil threads R.
■
Compatible size allows inserting wire inserts of sizes from M2 to M6 in ACI-030 and from M6 to M16 in ACI-100.
■
Smooth insertion/extraction thanks to the auto-inversion function is realized by pairing with the dedicated power supply "T45BL", "T70BL" of HIOS Corporation.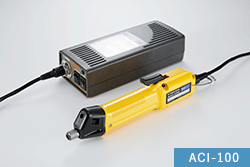 Case studies
IT Home appliances , Mobile phones
/ Automobiles , Aircraft
/ Precision equipment , Housing equipment
/ Other industrial equipment