Press
Advanex possesses a wide variety of equipment groups, ranging from general presses to high-speed precision presses and forging presses, with a maximum capacity of 250 tons. While dies are manufactured in-house and accumulated know-how is extensive, a system is in place so that can respond immediately to the needs of customers. Complex machining such as automatic caulking in a die is also possible by providing a slide mechanism inside the die. We also produce reel products, and we guarantee 100% of conductors, scratches, etc. by means of image inspection equipment. We possess expertise not only in processing, but also in delivery modes and transportation methods. We can also design inexpensive dies to match the life of our products. We have built an integrated production line from material supply to stamping, reel winding, and inspection to accommodate even more difficult products.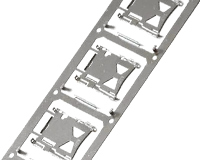 ---
High-speed precision press
Sorry, this video is only available in Japanese.
Materials are supplied from the turntable and product shapes are machined with the dies. Although this product is reel-wound, we check and guarantee against all damage, stains, etc. by means of an image inspection device installed after processing. If there is any abnormality, image data are recorded, the machine stops, and the operator is informed with a buzzer and light. Automatic winding of up to 6 reels is also possible for reel winding, enabling unmanned machining.
---
Large servo press
Sorry, this video is only available in Japanese.
This is an example of a large servo press, and Advanex's holds up to 250 tons. Since the servo press can precisely control the speed and the applied pressure at bottom dead center, it is also effective for complicated shapes, drawing, and other forging processes. Side-cutting using a slide mechanism, caulking, and other designs that utilize the size of the stage are also possible, enabling us to meet the needs of a wide variety of customers.